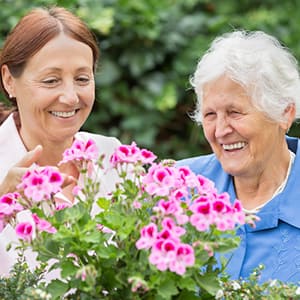 Alzheimer's Care
As the medical industry is learning more about, and become more adept at early diagnosis and treatment for Alzheimer's disease and other types of dementia, more and more families find themselves in need of the specialized care and support to provide a comfortable and safe home environment for their aging loved ones. Here at Valley Home Care serving the greater Fresno, Modesto, Merced and Los Banos areas, our trained and expert staff are available up to 24 hours at a time to assist with providing specialized care and monitoring of elderly individuals who are suffering with Alzheimer's or dementia, whether your loved one is dealing with early memory loss, or has progressed into the more challenging and difficult progressions of the illness.
Valley Home Care's personal caregivers have experience helping families throughout the central valley with relatives suffering from Alzheimer's disease and other kinds of dementia. We will work with you to create a home care program which helps with daily activities like bathing and dressing, and provides relief to the family caregivers through assistance with housekeeping, laundry, and other routine home management tasks. Our in-home caregivers work to create and maintain a calm and safe environment in the home, and will place the health and well-being of your aging loved one at priority one.
About Dementia and Alzheimer's Disease
Dementia is a disease that is marked by diminished mental abilities and decreased cognitive function. The most common type of dementia is Alzheimer's disease. It affects the memory, thinking, and overall behavior of nearly 5.4 million aging Americans, according to data from the Alzheimer's Association.
The symptoms of Alzheimer's disease typically begin once a patient reaches the age of 60. Common symptoms include forgetfulness and other cognitive problems beyond what is reasonable or normal. When these problems develop before the age of 60, this is known as early onset Alzheimer's disease.
Dementia itself is not a specific disease, but is rather a term describing a range of symptoms which are concerned with cognitive decline. Dementia, in general, causes aging individuals to lose their ability to think properly, and Alzheimer's disease accounts for somewhere around 60-80% of all cases. Vascular dementia, a kind of memory loss that is associated with a stroke, is another common type.
Though dementia is associated with memory problems, it is important to note that memory problems that come with age are not all necessarily dementia. In fact, many older people have trouble with memory problems. Dementia is not only characterized by an impaired memory, but also impairments to language, communication, attentiveness, reasoning, judgment, and visual perception. A patient suffering from two or more of these symptoms may meet the diagnostic criteria for a diagnosis of dementia or Alzheimer's disease.
These diseases are progressive and degenerative, which means that they worsen over time and the impairments grow more profound. While some forms of Alzheimer's disease seem to be hereditary, others are not. The cause of dementia and Alzheimer's disease are not clear, but many scientists and researchers are interested in the buildup of plaque in the brain as a target for treatment.
The Stages of Dementia
In early stages of dementia, an individual may simply have moments of forgetfulness. They may get lost on familiar routes, misplace common items, or have difficulty performing mental tasks that they once did very easily, including balancing checkbooks, paying bills, crafting, or playing a game. The individual may also lose interest in activities which they previously enjoyed, or begin to manifest personality changes which are out of character. Over time, these symptoms continue to become more severe, and patients often have difficulty with basic tasks like grooming, dressing, cooking, reading, and writing.
As the disease progresses, patients may forget life events, be unaware of current events, and can even lose awareness of their identity and the identities of their loved ones. Ultimately, they may lose the ability to understand language and to perform the basic activities of daily life. While these later symptoms are undoubtedly the most difficult for family and loved ones to witness, the reality is that dementia and Alzheimer's is a dangerous disease at any stage in its progression, and for this reason, Valley Home Care of Fresno and Modesto offers specially trained caregivers who can offer the kind of specialized care that dementia and Alzheimer's patients need, at any stage of the disease.