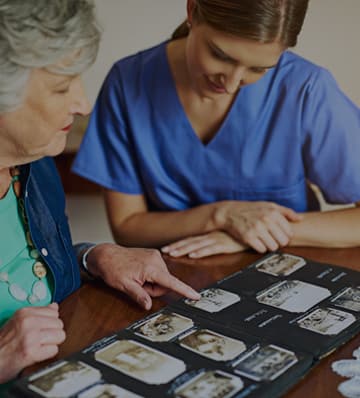 Senior Living Care Companionship
Perhaps you have an aging parent or another elderly loved one whose happiness, health, and general home conditions are beginning to decline. Perhaps they are forgetting to take their medications. It's understandable to be worried. You help them to clean the house and offer whatever help you can to ensure that they stay on the prescribed medication schedule, but you can't be there all the time, between visits you find that the poor conditions return. Perhaps you find yourself starting to wonder if your aging loved one needs more help around the house than you can provide.
Recent research has revealed a surprising link between our social needs and interactions and our overall health and longevity. In one survey, 4 out of 5 physicians reported that patients who had unmet social needs experienced worsening health conditions. These doctors say that the social needs of a patient are just as important as their medical conditions, and if it were possible to write prescriptions for friends and social interactions, it would likely account for one out of every seven prescriptions written for seniors today.
Of course, it's impossible to write a prescription for social interaction to address the very real conditions of loneliness and isolation near the greater Fresno, Modesto, Merced and Los Banos areas. Overcoming the emotional challenges is a very difficult task for many seniors, especially those who live alone. As our elderly loved ones age, the circumstances limiting their ability to drive or otherwise stay connected to their community, friends, and family can easily lead to isolation and losing touch with the people who were once common in their lives.
If you have a loved one who is suffering from loneliness and isolation, and you can see the conditions taking a toll on their overall health, Valley Home Care can help. Our personal caregivers can help to fill the social gap left when as grow older. Our in home caregivers not only monitor and protect your loved one's health, wellness, and safety, they also help with everyday household tasks and, crucially, provide a constant source of social interaction. Supportive conversations, helping to plan outings and other social activities, and providing encouragement for activity and exercise are just some of the way our caregivers help your loved once to stay socially and mentally active.
Companionship Care at Valley Home Care
The purpose of Valley Home Care's companionship care serving the greater Fresno, Modesto, Merced and Los Banos areas is to provide elderly patients with friendship and company. Our caregivers and companions help with light household chores, but a companion's primary purpose is to spend time with a patient and be a friend. Companionship care can help adult children to ensure the daily wellbeing of homebound aging parents, and can help aging loved ones who feel cut off from the world to feel socially and mentally engaged.
Supportive and Friendly Conversation
Anyone who has an aging parent knows that they love telling stories. You've probably heard them all countless times, but it doesn't lessen the joy they get from telling them. They love to relive those happy memories, to affirm their identity and their accomplishments, and to share insights about the things they have learned from life. Our in-home companions and caregivers in the greater Fresno, Modesto, Merced and Los Banos areas will be there to listen when your elderly loved one wants to reminisce or share a funny tale, and we will be attentive, friendly, and active listeners for your loved one's many 'fish tales.'
Planning and Encouraging Social Engagement
Maintaining a level of independence and activity are important for the ongoing health and happiness of seniors. The in home companions and caregivers at Valley Home Care of Fresno and Modesto are here to help your loved one to make the best of every moment. This includes helping them to plan visits with family and friends, planning and hosting play dates with grandchildren and great-grandchildren, trips to local attractions like zoos or museums, shopping trips, crafting, scrapbooking, and even help with scheduling vacations and day trips.
Encouraging Light Exercise
Every doctor will tell you that exercise is one of the keys to good health, and as we get older, this becomes especially true. By participating in an active lifestyle and engaging in enjoyable activities, seniors maintain greater mobility, enhanced quality of life, and keep a higher level of independence. However, many older people, even those in good health, can use a little encouragement and motivation to get moving. Our companions and caregivers at Valley Home Care serving the greater Fresno, Modesto, Merced and Los Banos areas can accompany your family member on walks, trips to the local senior center, and light household activities to encourage activity and exercise.