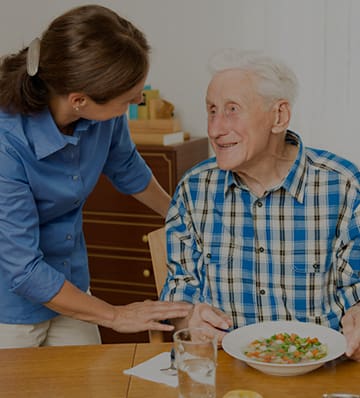 Meal Preparation & Time Assistance for seniors
It isn't difficult to see why many household chores may become difficult for an aging loved one. Daily activities like vacuuming, dusting, and washing the dishes are chores that require stamina, coordination, and strength, and for older loved ones, they can become nearly impossible. Cooking, too, can become a difficult or strenuous activity, and so many family members try to provide their loved ones with easily prepared meals. It sometimes surprises or even frustrates family members that their elderly loved ones don't seem at all interested in food, even if the preparation is easy.
As a parent or loved one ages, it is common for them to lose interest in food, and the reasons for this can vary from situation to situation. In the case that your parent or loved one is a widow or widower and lives alone, meal times can be lonely and sad. If a parent is losing their sense of smell or taste, meals can seem flavorless and less appetizing. Many medications can have an impact on appetite as well. Not only that, but often aging seniors have dietary requirements that lie outside the food they are used to eating. In these cases, grocery shopping and learning new recipes can be serious obstacles to their ongoing nutrition. These factors can combine to result in very special food needs for your elderly loved ones – and these needs can be met with Valley Home Care's food preparation services serving the greater Fresno, Modesto, Merced and Los Banos areas.
Assistance with Menu Planning for Your Loved Ones
To ensure that your aging loved one or parent gets the proper foods to stay healthy, our in-home caregivers will help you and your loved one to prepare a healthy, well-balanced shopping list. Since healthy foods tend to cost a little more, our caregivers are also happy to help your loved ones clip coupons, find the best deals in sales papers, keep an eye on the food supply in the house, dispose of expired or spoiled food, and assist with the grocery shopping itself.
Meal Time Assistance
It is common to see unintended weight loss in people over the age of 65, and this can be a sign that your loved one isn't eating properly. If you suspect this may be the case, it may be beneficial to consider home care meals with meal time feeding assistance, services provided by all our caregivers at Valley Home Care of Fresno and Modesto. In fact, recent research shows that meal time assistance and feeding assistance during or between meals can help to improve an aging loved one's food and fluid intake significantly, helping your loved ones to maintain a healthy weight.
Meal Preparation Assistance
Elderly who live at home alone often have nutrition problems. Preparing healthy, balanced meals often seems like a bother for one person, but for the elderly it also seems like a huge task. Seniors digestive systems don't work as well as they had when they were young, so their bodies don't receive the same nutrition out of food as before. Seniors who aren't eating well and who don't receive proper nutrition are at risk for illnesses and depression. Valley Home Care makes sure its clients receive great-tasting, healthy meals that meet our high standards and our client's individual diets. Our personal caregivers help clients prepare meals, cook and scrub the pots and pans after a meal. There's no worry about unattended stoves, stacks of dirty dishes or expired food in the 'fridge.
Complete Meal Preparation at Valley Home Care of Fresno and Modesto
Some seniors find that at-home meal preparation isn't just too difficult or time-consuming, but also, it's difficult to adapt their cooking methods to meet their health care providers' recommendations. Others have found that they enjoy their retirement and are busier meeting friends, volunteering, watching grandchildren or working in the garden than they had been when they worked 9-5 jobs. A decreased appetite and an early tee time makes skipping breakfast sound like a good idea. However, when this becomes a pattern, active seniors can lose energy and become vulnerable to unexpected illnesses. Instead of turning over the flower beds, they're taking a turn for the worse.
Our in-home caregivers work with many seniors who are active and don't want to slow down to slow-roast a chicken, but who still need to eat nutritious meals instead of fast food. Our caregivers prepare meals for these clients so they can be on-the-go while still following their physicians' dietary recommendations. We offer cooked-from-scratch breakfasts, lunches and dinners that are portioned to meet our client's nutritional regimen and decreasing appetites while satisfying their desire for ease, taste and variety.
Sign up for either one of our food preparation plans and you'll have the peace of mind that comes from knowing that your elderly loved ones receive not just the best care, but the best food, too. You won't need to worry about your senior family members leaving the stove on or forgetting to eat and your senior family members won't have to set aside time to learn to cook fat-free, low-sodium quinoa when they'd rather be taking a class or just taking it easy.