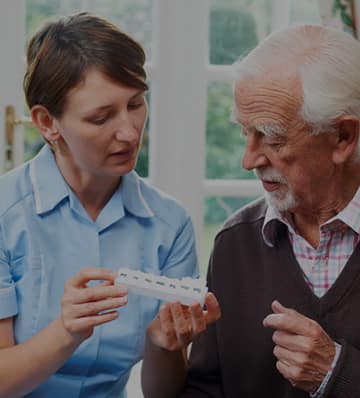 Medication Reminders & Management Services
Seniors, particularly those who have illness or injury, commonly are prescribed multiple medications. It can be difficult to keep track of which medication they should be taking at any given time of day, and remembering to stick to the medication schedule is another challenge – particularly from elderly people suffering from memory problems. In addition, taking the wrong medication, taking too much or too little of a medication, or stopping medications entirely are common. These actions, clearly, can have adverse health effects on your loved ones. To guard against mistakes, and to ensure that your loved one adheres to the medication regimen prescribed by his or her doctor, Valley Home Care's caregivers serving the greater Fresno, Modesto, Merced and Los Banos areas are happy to help with medication organization and reminders.
The Difficulties of Medication Management
Managing the many prescription medications they need to be taking can be a difficult task for older loved ones. They are commonly prescribed several medications, each with its own unique instructions for dosage and frequency. These pills can often look similar, and even if they don't, it can be a challenge to remember which pill does what. Somewhat ironically, patients suffering from memory issues due to the onset of Alzheimer's disease and dementia have even more medications to keep track of, despite their diminished cognitive abilities.
Valley Home Care's caregivers serving the central valley area from Fresno to Modesto to Los Banos are carefully trained in prescription medications and to help with medication management. They can organize medicine cabinets to minimize the risk of taking the wrong medicine. Our caregivers will organize your loved one's daily medicine regimen into an easy-to follow process and will remind them when it's time to take medication. They make sure that the correct pills, and only the correct pills, are being taken. In addition, our caregivers can help keep track of medication refills and ensure that they are always filled promptly.
Our caregivers are also trained to monitor your elderly loved ones for changes due to medication. If it seems like a new medication or increased dosage is causing unwanted or difficult side effects, or if your relative has trouble taking a medication, the caregiver will inform you immediately and will assist in taking action to correct the problem. Lives can be saved by a little vigilance, and our in-home caregivers have the training necessary to spot problems early.
Easy Reminders for Forgetful Minds
One of the most common reasons that our elderly loved ones don't take their medications as directed is simply forgetfulness. This is understandable – the average senior citizen has seven different prescription medications to take each day. Our professional caregivers can help your loved one keep track by providing easy, friendly reminders which are simple to follow.
Medications are costly, but not taking them properly can cost even more. Every year, more than 125,000 individuals die due to not properly adhering to medication regimens. This fact alone makes the potential benefits of medication reminders from Valley Home Care clear, but additional benefits include decreased re-hospitalization, fewer ER visits, fewer doctor's visits, and better day-to-day health for your loved one.
Peace of Mind for You
Having a Valley Home Care caregiver assisting your elderly loved one in their home grants you the peace of mind of knowing your loved one is taken care of when you can't be there. You know you don't need to worry about your loved one taking their medications at the right time and in the right amounts, because our medication management and medication reminder service will ensure that all your loved one's medications will be taken at the proper time and in the correct doses. In addition, when you do spend time with your loved one, you can spend that time enjoying each other's company, instead of worrying about their medication regimen.
Medication management for seniors in Fresno, Modesto, Merced, and Los Banos is a very important part of the successful ongoing health and daily lives of elderly individuals who suffer from many different conditions, including Alzheimer's and dementia, pain medications for the treatment of injuries, and ongoing medications for conditions like hypertension or anemia. These medications can help reduce memory impairment, promote healthy sleep patterns, reduce anxiety, and improving your loved one's mood in addition to ensuring that they stay as physically healthy as possible. Our personal caregivers are trained and take care to ensure that your loved one is taking all the correct medications at the appropriate time of day, so that you can enjoy spending time with a healthy, happy parent or loved one for as long as possible.