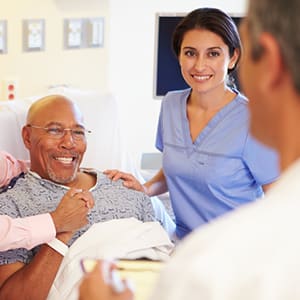 Post Hospital Recovery
Being admitted to a hospital for an illness or medical procedure can be stressful for patients and their families. Elderly patients who are hospitalized can have even more difficulties than younger people. Often their family members are torn between busy schedules and visiting the hospital to be with their loved one. However, often in the case of elderly individuals, the stress does not stop when hospital stays end. Often, seniors need in-home caregiving services for a time after returning home from a hospital stay.
If you find yourself in this position, you don't need to decide between your life and livelihood and your loved one and your loved one's care. The caregivers at Valley Home Care serving the greater Fresno, Modesto, Merced and Los Banos areas provide a full range of home care services for seniors recovering from a hospital stay. Our personal caregivers offer companionship, support and comfort as well as services like medication organization and reminders, food preparation and personal care while your elderly loved one recovers at home.
The Importance of Post-Hospital Care in Avoiding Hospital Re-admission
Studies have shown that 35 percent of seniors who have been discharged from the hospital find themselves re-admitted after just three months. One in five Medicare patients go back to the hospital in just one month, which places a burden not just on patients and their families, but on the Medicare system, too. Seniors who are re-admitted often don't follow their doctor's medication and care recommendations or their home is not set up in a way that they can recover, care for themselves and take maintain the house, too. Valley Home Care of Fresno and Modesto can help to provide an optimal home environment for those who are recovering from hospital stays. Our caregivers make sure that the former patient follows the care plan, takes medications as directed and abides by the instructions for rehabilitation and recovery. With our caregivers on the job, our clients enjoy a rapid recovery in their own homes with services tailored to their specific limitations, desires and needs.
When discharged from a hospital, most patients (of any age) have something of an idealistic vision of their home recovery. It's natural that when hospitals discharge patients, the former patients think they'll immediately be well and able to participate in their usual activities. However, once they are home, elderly patients can become overwhelmed with the recovery process, the medications, the physician's instructions as well as every day home and self-care. They often become lax about their recovery steps, forget or become confused about how to take their medications, or run into additional hygiene or home problems. When these problems turn into complications, the seniors' health declines and they're back in the hospital.
Recovery isn't a honeymoon. It can be a long, difficult, stressful and sometimes painful process, even after hospitals release patients and send them home. Our caregivers at Valley Home Care can be with your loved one up to 24 hours at a time, offering professional and expert services for post-hospital recovery in Fresno, Modesto, Merced, Los Banos, and many other towns in the central valley. No matter what services your loved one needs, our in-home caregivers will ensure that their recovery process is as successful as possible.
The caregivers at Valley Home Care of Fresno and Modesto are trained in medication management and a wide range of common diseases and ailments affecting seniors, and can ensure that all recovery processes are performed to the letter. Our medication organization and reminder service will ensure that the medication administer schedule recommended by the hospital is followed.
Our personal caregivers can assist with attending all follow-up appointments, including appointment transportation services. Our food preparation services ensure that your loved one maintains a healthy and appropriate diet, and we will encourage mental and physical activity appropriate to their recovery to guard against isolation, loneliness, depression, and lethargy. Your loved one will spend their recovery in frequent contact with a friendly, encouraging, and supportive companion in their Valley Home Care caregiver, who will be there for you and your loved one throughout the recovery process.
Transition from Hospital to Home with Valley Home Care of Fresno and Modesto
The breadth and flexibility of our service offerings means that when you choose Valley Home Care, you can rest assured that you will be given the care you need, when you need it. Hospital admissions are often unexpected, as are discharges, so our caregivers are available on short notice to assist you and your loved ones in making the transition from hospital to home as smooth and successful as possible.