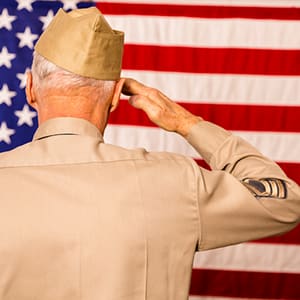 Veteran's Care
Because we value very highly the valuable service that those in the armed forces have given for our country, Valley Home Care of Fresno and Modesto is pleased to be able to offer senior veterans and their spouses a full range of home care services, that may be covered by the Veteran's Administration. We can tailor any aspect of the full spectrum of services provided by Valley Home Care to Veterans in the central valley including the greater Fresno, Modesto and Los Banos areas to meet the needs of the veteran and their spouse and family members.
Food Preparation for Veterans
As anyone ages, it becomes more and more common for us to lose interest in food, or for food preparation to become more difficult. Perhaps meal times are lonely or sad. The loss of senses of smell or taste can make food seem tasteless and unappetizing. Medications, too, have an impact on our experience of flavor and the appetite. In addition, as we get older, typically our dietary requirements shift toward sensible, healthy meals which are often a far cry from what we are used to, and prefer, eating. In these cases, keeping up with grocery shopping, learning new recipes, cooking, and planning healthy meals can become a challenge. These factors combine in special food needs for anyone getting older, including veterans. Valley Home Care serves the greater Fresno, Modesto, Merced and Los Banos areas and has a full range of food preparation services.
Housekeeping and Laundry for Veterans
As we get older, any of us will find ourselves less able to keep up with basic daily household chores. Housekeeping, dusting, laundry, dishes, even taking out the trash becomes more difficult. However, we also understand the desire for independence and the love that you have for your home. For this reason, in-home care at Valley Home Care serving veterans from Fresno to Modesto to Los Banos is a good option to enable aging veterans and their spouses to continue to live the life they want, while getting a little help with the daily ongoing tasks which have become a little more difficult to do alone. Here at Valley Home Care of Fresno and Modesto, your independence is important to us – but we can help to make sure that you can enjoy your independent life free from worrying about the nuisances of daily housekeeping chores.
Medication Reminders for Veterans
Anyone who gets older, particularly those who have an illness or injury, will commonly be prescribed multiple medications, and our veterans are certainly no exception. It is difficult for anyone to keep track of so many pills, which medication they should be taking at a given time of day, and remembering to adhere to the prescribed schedule – particularly for older people who may have memory issues. Additionally, the dangers of taking the wrong medication, taking too much or not enough of a medication, or skipping or stopping medication completely are serious and can have a major impact on the ongoing health of anyone, including veterans. To ensure that your medications are organized and to guard against simple mistakes with dire consequences, Valley Home Care's caregivers are happy to assist in medication organization and reminders for veterans and their spouses.
Personal Care for Veterans
The morning and evening routine is one of the constants in our lives which makes us feel grounded and complete every day. These seemingly innocuous rituals that each of us perform every day turn out to be surprisingly vital to our ongoing satisfaction and happiness. They can make days and nights feel normal. As we get older, however, these tasks can become more difficult for anyone. For our aging veterans and their spouses, Valley Home Care of Fresno and Modesto is pleased to offer personal care assistance starting from help getting out of bed in the morning, including dressing, grooming, and preparing breakfast to the evening ablutions of changing, showering, and turning in. The caregivers here at Valley Home Care serve veterans from Fresno to Modesto to Los Banos and all over the central valley area to help you start and end the day on a good note. We understand that a good night's rest and adherence to a personal schedule is vital to a healthy lifestyle, so our personal caregivers can assist with any morning and evening personal grooming and hygiene tasks to ensure that your days are happy, healthy, and complete.